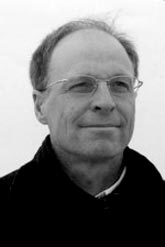 Thomas Hanrahan is a founding partner hMa Hanrahan Meyers Architects and the dean of the School of Architecture at Pratt Institute. Hanrahan has been principal on a number of award winning projects, including the Won Dharma Center (2010 Design Award, Faith + Form Magazine); Holley Residence (featured at the Museum of Modern Art in 1999), Pratt Design Center, and the Interpretive Center museum in Chattanooga, Tennessee.
Hanrahan works with urban design clients, including Battery Park City Authority, where hMa are the official master plan architects for the North Neighborhood. In 2004 Hanrahan hosted a symposium in New York in collaboration with Metropolis magazine titled: 'Global Warming'. The symposium addressed issues of green technologies applied to building construction as well as regional urbanism and sustainable development.

As the main hMa principal overviewing the Battery Park City North Neighborhood Master Plan, Hanrahan has unique expertise in green master planning and sustainable urban design.
For the Won Dharma Center Master Plan, Hanrahan has overviewed the development of a 550-acre site into a 'zero-carbon footprint' landscape. Hanrahan is also overseeing the construction of hMa's design of five buildings on the Won Dharma Center site.
Thomas Hanrahan received his B. Arch from the University of Illinois and his M. Arch from Harvard's Graduate School of Design.